Mono3 BitMap Filter
A downloadable Black holes filter for Windows
Have you ever had the need to print photos on t-shirts, paintings or flyers, having photos or drawings that were not perfect or were blurred photos or the color tones were excessive?

Usually, in these cases you will have had to retouch the images, with a waste of time and money, perhaps without obtaining anything particular; or you have applied filters to get stylized images.
What I propose is just one of these filters, widely programmable and also available on Adobe Photoshop; unlike it, working with discrete values my filter has an even higher precision and detail.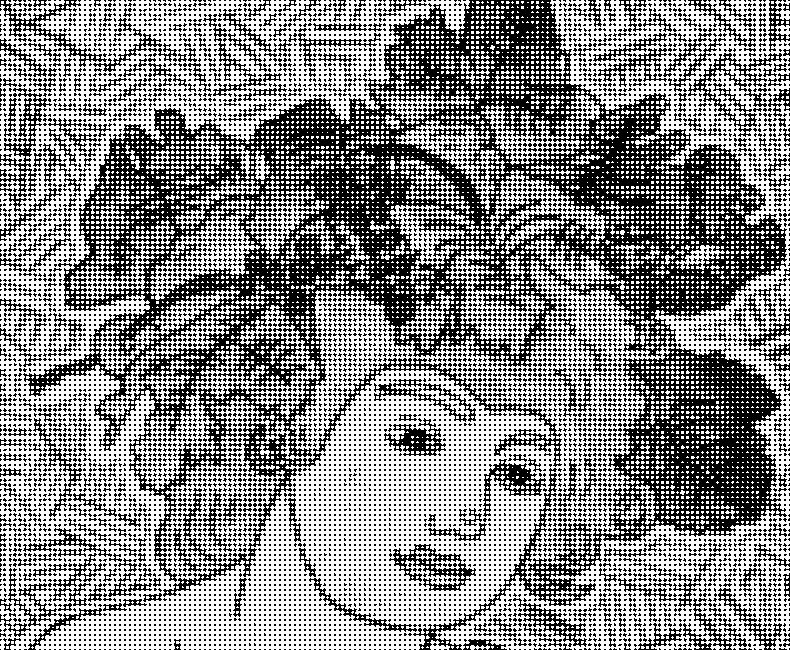 But which filter am I talking about? A filter, which among other things could be used to create frame with mask for screen printing: from an uncompressed BMP Windows image, but in any sub-format, it obtains a monochromatic image made of small holes arranged in a matrix and of variable dimensions, proportional to the intensity of the color.
How can such an image be visible? It is an optical illusion that the brain pleasantly decodes into an image with particularly sharp nuances.
It has 3 decoding algorithms, one of which is programmable with AnimEdi.
Programming of dithering and soften.
Programming of the minimum black level and quantity of variations for the shades.
Process a whole group of files or a single file.
Programming the type and maximum size of each "hole".
It is fairly fast.
Here you can download the free demo or buy the complete package of Delphi and Assember sources; that is, you can buy an open-source and modify the code for personal use or understand how this new algorithm works. In addition, you could unravel some "mysteries" of the BMP Windows format that are not trivial at all, by studying an included library of my own invention to examine them and save them directly on the hard disk.
Borland Delphi 5.0 is required for compilation, but the sources (programming) are texts that you can open with any editor or word processor.
Paolo Fassin (PCDear.ent.games)
Purchase
In order to download this Black holes filter you must purchase it at or above the minimum price of $7 USD. You will get access to the following files:
Mono3 (full setup program).exe
9 MB
Download demo