Bacci-and-the-Ducklings new infos
---
BACCI AND THE DUCKLINGS - RELEASE 7.0 - VERSION 1.3+: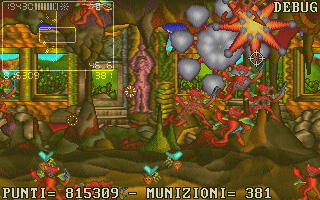 NOW HERE ARE AVALAIBLE 2 FREE DEMO-FILE!
In the past some demo files were available for free, but, not reflecting the full game, they were removed; now a new high resolution playable demo has been created (the low resolution is available, together with the options menu only in the paid version), with the first level of this video game and various possible endings and it is freely available and downloadable here in 2 formats: installation executable file and ZIP archive:

Bacci-and-the-Ducklings (with levels' editor)
In this video-game, BACCI is a super-equipped hunter who is in the midst of a flock of birds. The aim of the game is to shoot down all the birds, without running out of ammunition.
When the number of live birds is greater than the amount of ammunition available of BACCI, he must go home with empty-handed.
BACCI has available a rifle, a grape-shot and a radar.
If he strikes a macroscopic letter, it will explode and it will lead to hell all the birds that are near it.
Be warned, though: BACCI has some rivals; these reckless hunters, that have steal the wings from Icarus, they will try to steal the birds killed by him, afterkilling him like a bird.
If the time available is exhausted, he must reach with great regret his wife that is waiting for him furious on 'door, but in this case he lost a bet with his friends; but if he is able to clean up the sky from all birds, she will have to cook for a whole year meat and beans, with great pleasure of her husband, who is very greedy.
Files
Bacci32 (setup program).exe
147 MB
Jun 17, 2022
Bacci32 (archive).zip
159 MB
Jun 17, 2022
Bacci32 (demo).exe
141 MB
Jun 17, 2022
Bacci32 (demo).zip
150 MB
Jun 17, 2022
Get Bacci and the ducklings (with levels' editor)